Strengthening Team Performance
Effective and healthy teams are essential for achieving sustainable high performance in organizations. We work with our clients in very different situations, providing individual solutions to strengthen their team dynamics and improve the business results.
Typical Settings Where We Get Involved
Strategy development / strategy review / strategy change
Collaboration between different departments/functions
Restructures and turnarounds
Introduction of performance management systems (e.g. using OGSM or OKR methodology)
Introduction of LEAN management systems
Introduction of agile approaches
Changes in personnel
Transition from start-up to established business
Example Focus Areas From Previous Projects
Constructively addressing sensitive topics or conflict in a team
Valuing and using diversity as an asset
Building trust within the team
Team accelerator for new teams
Collaboration between or within teams
Clarifying roles and responsibilities
Development of vision and goals
Strengthening resilience in the team
The leadership team as an agent for change
1.Listen, Understand & Propose
The first step is always for us to gain a detailed understanding of our client's situation and needs. Our first meeting is free of charge and allows us to establish if and how we can help the client achieve their goals. Following this first meeting we provide a recommended approach.
2. Prepare & Design
We usually then gather more information for example by conducting interviews or using surveys and use this as a basis for designing a program to support the team's development. We share and refine this with the client to prepare all the final materials and content for the program.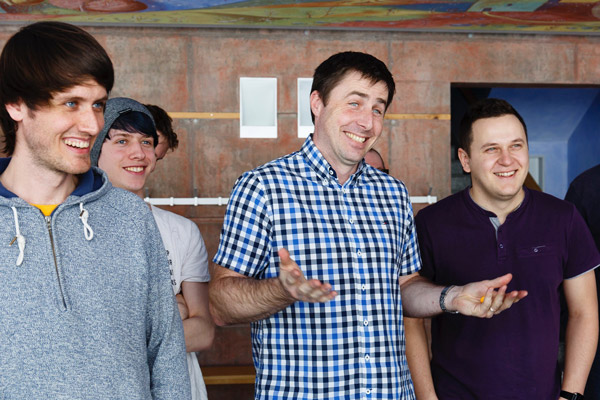 3. Engage & Deliver
Sometimes we ask team members to complete some exercises or research before the program, or provide relevant, optional articles to read.
The length and timing of a program vary widely depending on the objectives and physical logistics. Most programs can be delivered virtually or face-to-face, or using a mix of both formats. They usually range from a single half-day, to multiple blocks of several days, interspersed over several months.
4. Follow-Up
It's one thing for teams to make progress during the program day(s). It's another thing for this progress to be reviewed, maintained and built-upon. We work with you and your team to ensure that progress continues. Sometimes we provide on-going coaching, or help with reviews to ensure that agreed changes are being lived into and identify whether any additional adjustments might be needed.
With Hartmut's guidance the participants were able to have good discussions about their specific strengths and weaknesses. Even on difficult topics he was able to bring the group to the heart of the matter and help us find solutions.
John Bachelor & Roman Saladin,
Co-Teamleiter/Alarmorganisation – ETH Zürich (Zürich)
Want to find out more?
Contact us now for a free consultation.